Shihan Kenji Suzuki teaches a karate style that has its roots in traditional Japanese karate. He incorporates his own training techniques, which brings to his students a unique yet highly effective form of the martial art.
The Suzuki style of karate is "full contact", not "point system" karate. The kumite (fighting/ sparring) is controlled in such a way that students participate in realistic fighting experience without risk of injury. Along with kumite, students will learn traditional karate kata (forms/patterns) and also train with focus targets called mitts to develop strong and accurate striking techniques.
Shihan Suzuki's students range in age from 3 years old to over 78 years old. All receive the physiological and psychological benefits of karate training in a fun and supportive environment.

Suzuki Dojo hosts tournaments every year in the Spring and Fall. A number of dojos take part in the spirit of goodwill and friendship. From white belt to black belt, ages of participants range from 3 to 78 years old. These tournaments give students a chance to test themselves and their understanding and application of karate. It also gives them an opportunity to face their fears and nervousness head on, and to grow and develop mentally and spiritually from the experience.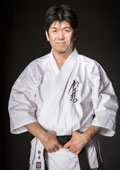 Shihan Kenji Suzuki began his training in Japan. He first studied judo, obtaining the rank of black belt before turning his attention to karate. He then trained under Shihan (Master) Toshio Sawayanagi, the founder Sawayanagi Dojo in Japan. After coming to the United States he began to train under Soshu Shigeru Oyama, founder of the World Oyama Karate Organization. Both Shihan Sawayanagi and Soshu Oyama are world renowned karate masters. Shihan Suzuki has competed in countless full contact karate tournaments internationally, and has been crowned "champion" numerous times. In January 2007, Shihan Suzuki decided it was time to pursue his dream of creating his own school. He left the World Oyama Karate Organization and founded the Suzuki Dojo, which trains at two locations. Shihan Suzuki obtained his 5th degree black belt in 2005.